NBA cheerleaders simply can't get hotter; they are sexy as hell and it's basically the reason why I go to the NBA games.
You know what I think? I think one day we are going to find out some of these girls are actually stripers or something. If we do, I'm going to be the happiest guy on earth.
Anyways, here are Top 10 Hottest NBA Cheerleaders, enjoy!
10. Kings Scandal
Ok so the Kings have bad girls, I don't care. I just like them for putting those hilarious pictures on the web.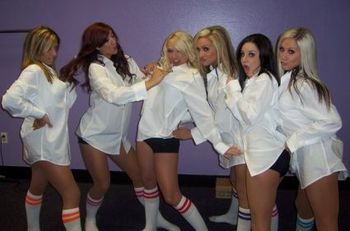 9. One sweet reason to watch the Jazz
In less than three months the Utah Jazz lost Carlos Boozer, Jerry Sloan and Deron Williams, basically killing basketball in Salt Lake. The good thing is they still have girls like this so we can have a reason to go to the Arena.
8. The Honeybees
I'm telling you the Hornets girls have something that makes you start fantasizing. Those dangly things on their butts are killing me.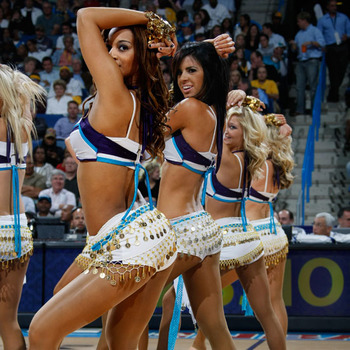 7. Rockets Babes
You know what's better than a girl in a bikini? Five hotties in bikinis! Wohoo!!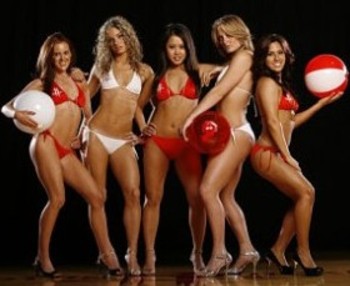 6. Nuggets hotties
Do the Nuggets find their chicks in a strip joint? I don't think there is a sexier sight than this one. Check the left hand from the girl on the right… ohh boy, I'm thinking three some.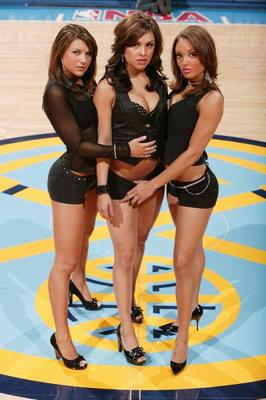 5. Sixers on Fire
Ohh dude, is it getting hot in here? She looks like a swimsuit model from Sports Illustrated…
4. Heat
Once again meet the Heat…! They look like girls from the American gladiators, right? Except sexier.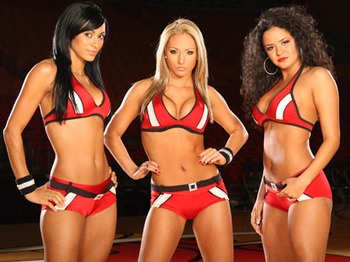 3. Sexy Kings
I love when chicks put on my shirts after…you know. This picture is so hot and sexy because I'm thinking she doesn't have anything under that shirt… I'm pretty sure I'm right on this one.
2. Bobcats' bad girls
These girls are looking naughty. Take a look at the chick in the middle, I think she wants me.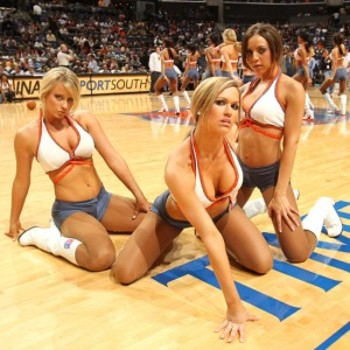 1. Nice huge reasons
If you don't like going to NBA games you should take a good look at this picture and you'll begin to think otherwise. I'm pretty sure if you stare at the pic for 30 seconds you wouldn't even remember these girls face…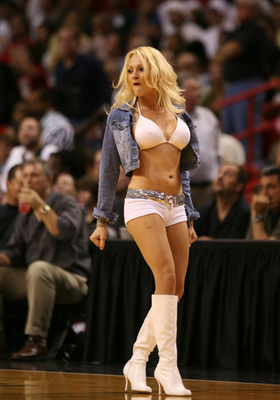 Bonus! Three more Hot NBA Cheerleaders:
Don't mess with the Hawks
Boom!! Hi nice to meet you. Let me tell you your face is pretty sexy…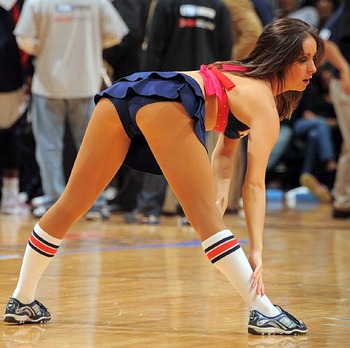 Portland
Let's give it up for Portland…!! This chick deserves a standing ovation; she's not only good looking but she likes to strut her stuff outdoors. I'm thinking cheerleader calendars for the Trail Blazers girls, what do you think?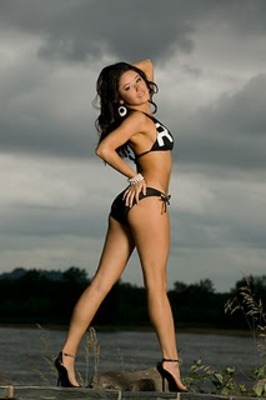 Random Cheerleader
I have no idea where this girl is from or if she is a NBA cheerleader, but you can't compete against Aces, don't you think?
I'm a fan of poker and a fan of variety and this picture has it all… especially because the chick is also pretty darn hot. If I had to guess I would say they are from San Antonio.